By GRACE DETWILER
Starring C. Thomas Howell, James Duval, Leslie Easterbrook
Directed by Chris W. Freeman, Spain Willingham
Written by Drew Fortune, Chris W. Freeman
DEVILWORKS
When washed-up B-movie producer Breen Nash (C. Thomas Howell, The Hitcher) accidentally backs his top star over with his car in the studio parking lot, Nash realizes that finding a doppelganger to replace Huckle Saxton (James Duval, May) will allow the production of his film Beast Moon to continue, and save him the trouble to confessing to manslaughter. Luckily for him, a near-exact replica of Saxton works in a local sex shop, whom Nash and his loyal PAs recruit to assume Saxton's identity, play his role in Beast Mode, and appease his volatile wife Flex (Allana Matheis).
 The only downside – Michael (also Duval) has facial scarring that may cause tabloids and studio higher-ups alike to realize the real Huckle Saxton has been replaced. However, salon guru Zelda Zine (Leslie Easterbrook, The Devil's Rejects) can source an experimental cream that is rumored to remove any blemish, leaving Michael looking exactly like Saxton's twin. As shooting for Beast Moon carries on, a dark secret about the cream is revealed: if the magical flower it's made of deems the wearer an evil soul, at the stroke of midnight he will become a demonic beast that hungers for human flesh. 
Despite having a premise that is nearly impossible to summarize succinctly, BEAST MODE's plot makes for a genuinely entertaining – if extremely campy – film, complete with plenty of instances for its makers to flex their practical effects skillsets. BEAST MODE's gorier, horrorier, moments are certainly the most satisfying, even if the ins-and-outs of the story itself, along with the dialogue, are largely forgettable. BEAST MODE seems to be attempting to cultivate a "so bad it's good" type of feel, but is almost entirely unsuccessful, rolling over into just plain passable more often than not.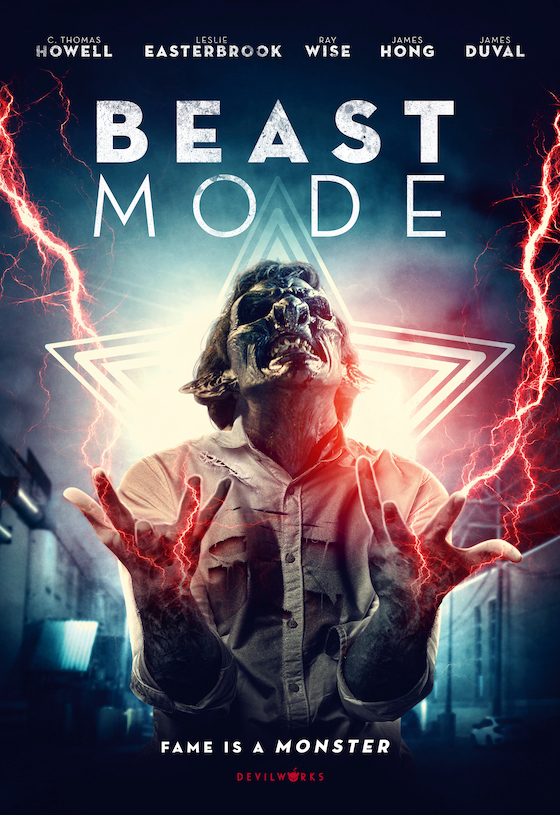 There is no doubt that "what's on the inside will be on the outside" is a common trope in horror, yet due to BEAST MODE's LA/Hollywood setting, the concept feels very well suited to its environment. One notable moment in particular involving a self-absorbed actor (Aaron Scotti) rubbing the cream on his face, genitals, and up his nose – thinking it's drugs – only to massacre a couple in the woods before being offed himself, is perhaps the most engaging instance of the flower-cream in action. Also worth mentioning are the appearances of James Hong (Blade Runner) and Ray Wise (Twin Peaks), who lend a great deal of credibility to the film, not to mention Wise's incredibly well-suited role as an ex-SFX master living alone in the woods after surviving the cream's effects. 
Lastly, I would be bereft if I did not mention the performance of dog-actor Beans as Breen Nash's co-dependant whippet "Mr. Bees," perhaps my favorite movie dog in recent memory. However, Bees aside, BEAST MODE is probably a skip for most horror and comedy fans alike, unless you simply desire to see the return of some real genre icons to the small screen. Made available digitally in the US and Canada on December 1st, BEAST MODE's cringe may unfortunately outweigh its camp in the long run.