By RYAN COLEMAN
Starring Noémie Merlant, Emmanuelle Bercot, Bastien Bouillon
Written and Directed by Zoé Wittock
Insolence Films
In JUMBO, the debut feature from Belgian director Zoé Wittock, Portrait of a Lady on Fire alum Noémie Merlant swaps Adéle Haenel out for an amusement park Tilt-A-Whirl and the resulting romance is somehow more potent and more tragic. Wittock has been cutting her teeth for the past decade on smaller projects—her own and others—as DP, as AD, as an actress, writer, and finally director. She graduated from AFI in 2011 with only an ambitious, yet student-filmy student film in hand. With JUMBO, she takes an assured step into the new decade as one of the most exciting emerging directors to watch.
In a way, JUMBO is the opposite of a student film. Rather than treating an over-serious concept with a dreadful sense of irony that falters into condescension, betraying an envenerating insecurity, JUMBO plays a totally wacky concept for straight-to-the-heart, swooning sincerity. Wittock's stylish direction is executed with confidence and without showiness. One would be forgiven for mistaking JUMBO for a third or fourth film, rather than this filmmaker's first feature writing and directorial venture.
JUMBO tells the story of Jeanne (Merlant), a withdrawn young woman with no social life or prospects to speak of who lives with her mother Margarette (that blast of fresh air Emanuelle Bercot) in Belgium. Jeanne gets a janitorial job on the night shift at an out of the way amusement park. She tells manager and soon-to-be arranged love interest Marc (Bastien Bouillon) that she's been coming to that amusement park since she was a child. During a scene in her bedroom, Jeanne shows Marc a collection of strange, scrap metal assemblages she's fashioned in the lonesome glow of her private chamber. "They are only machines on the outside, but if you watch closely they change their shape. And then they whisk you away," she whispers.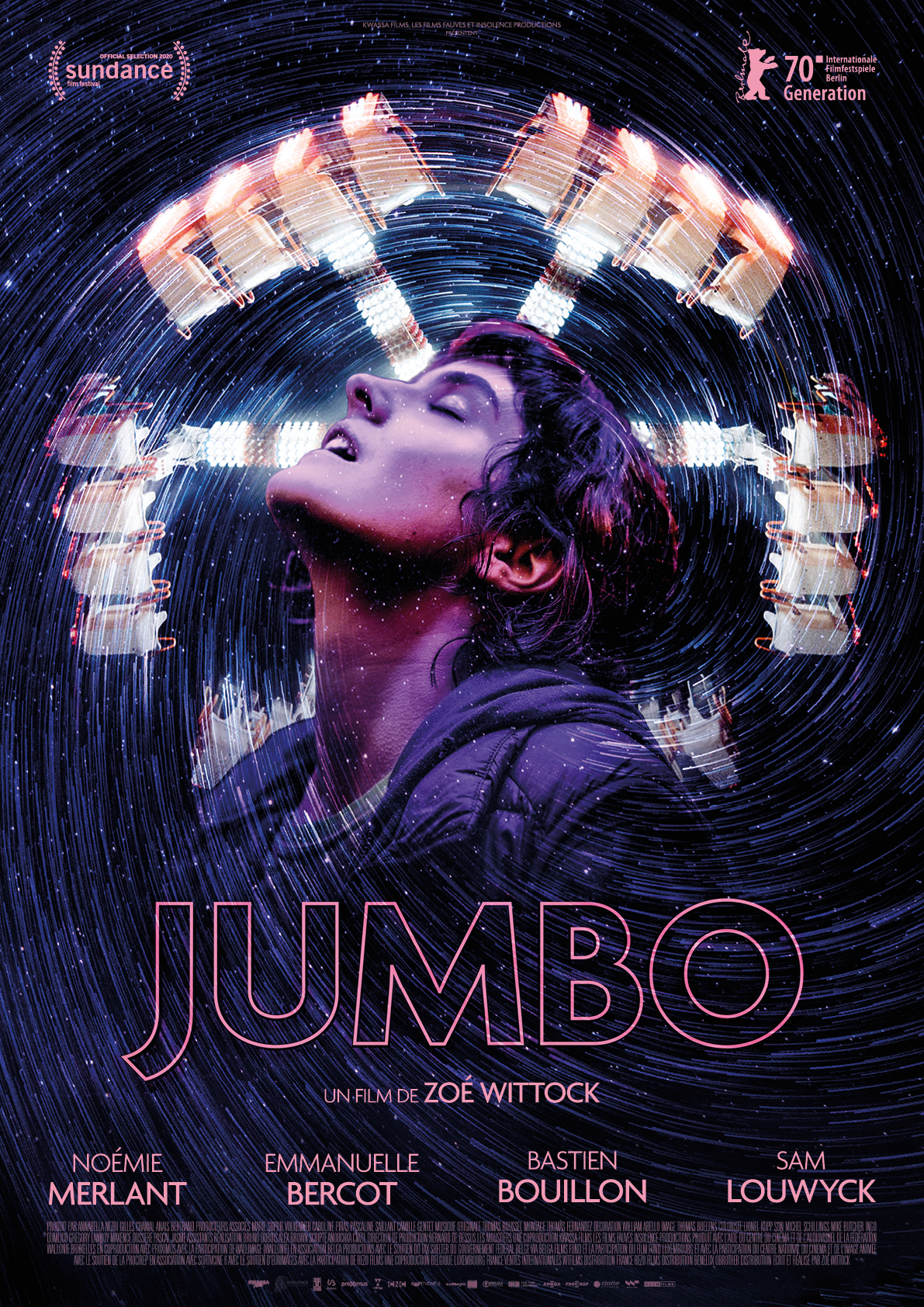 JUMBO's opening act is full of little hints like these, pointing forward and perhaps attempting to ease the audience into the strange waters rising. When Margarette gives Jeanne two kisses on the cheek before her first day at work, one from her and one for Jeanne's absent father, Jeanne wipes it off. "What! He helped didn't he?" Margarette barks. "I didn't make you with my vibrator! Unfortunately." It's just a few minutes before Jeanne sees him – The Move It, the park's newest attraction, a gleaming neon and chrome whirligig tucked into an intimate, tree-lined cul-de-sac at the back of the park. For innocent, guileless Jeanne, who in different hands could have been the heroine of one of Lars Von Trier's "Golden Heart" films, one look is all it takes.
Maybe there's an audience who needs to be convinced a woman can fall in love with an inanimate object, and that object can fall back in love with her. I don't belong to that audience, so JUMBO worked easily on my sympathies. It also helps that Wittock endows the film with a magical realist quality. Once Jeanne spends enough time sensually polishing The Move-It's knobs and whistles, it begins to "talk back" to her. Jumbo, as she affectionately re-christens him (she also resolves the issue of pronouns with relative ease), lights up, whirls his five great arms about, lifts his rotating core up and down, and grunts like a Cinemax WALL-E.
The chemistry between Merlant and Jumbo is, frankly, hot. Whether that's Merlant's fearlessly vulnerable performance or Wittock's tactile, reactive direction, it's hard to say. In the way Merlant's maestro for Portrait of a Lady on Fire, Céline Sciamma, feels seamlessly integrated with that film's gravitational center, Adéle Haenel, in all their collaborations, Wittock and Merlant are perfect complements. Perhaps the character is just bigger, is given more to do than her character in Portrait, but Merlant is rapturous as Jeanne – singing, crying, screaming, dry humping a hydraulic ram as she's doused in ribbons of motor oil. 
The bones of Wittock's story are actually quite ordinary – a person falls in love but the community around her doesn't approve, leading to conflict and its ultimate, feel-good resolution. But the unconventional specifics of that story require complex treatment. Jumbo is a riff on the real-life case of Erika Eiffel, the woman who married the Eiffel Tower in 2007 and with whom Wittock shared correspondence before commencing production. It's clear Wittock was touched by Eiffel's sincerity, and possibly even more so by the tragic innocence of her plight. Reports of the Eiffels' ceremony set off a global avalanche of close-minded ridicule whose heat has since let up but whose tenor hasn't wavered. Even queer people make fun of her! 
Truth be told, and everyone knows this, Erika Eiffel doesn't deserve it. Merlant's character in JUMBO – gawked at by shitty townies, thrown out of her house by her once loving mother – doesn't deserve it. They aren't hurting anyone. They're just sexual freaks in a world of horrible normies. If that doesn't actually confirm their moral purity I don't know what does.
JUMBO is a lovingly crafted queer accomplishment. It is earnest to the bone but doesn't take the big task of empathizing with Jeanne for granted. The film never questions Jeanne's feelings or choices, but neither does it rush to judge good faith initial concerns for her health and safety by her loved ones. As serious, sad, and sincere as it is, JUMBO is also funny, and genuinely pleasurable to watch. Wittock's DP, Thomas Buelens, endows light with ecstatic dimensions, from the dreamy Christmas light landscape of Jeanne's sad childhood bedroom to the menacing and beautiful machinations of Jumbo, whose red, gold, and blue lamps flood across Merlant's face. The full range of human emotional experience is marshaled to bring one troubled and wondrous life into full detail in JUMBO. Whether you engage with her or not is a matter for your heart.